Shop the Ship to Shore Chef Collection
---
Free with the purchase of a book!
A Gift while you wait for your book

I will include a gift in your purchase confirmation email to enjoy while you wait for your book to be delivered. Enjoy your PDF micro book: "What to do with Holiday Leftovers."
SHOP NOW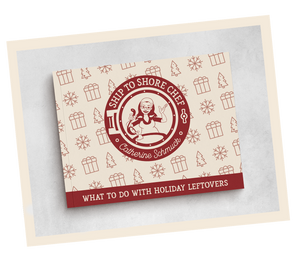 Shop the Galley Girl & Guy Merch
---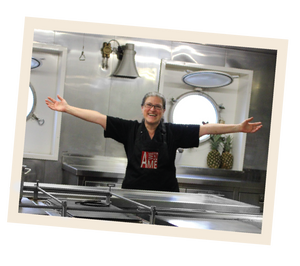 ABOUT CHEF CATHERINE
I have the most exciting job cooking and serving the crews on cargo ships. I love to look out the porthole at the ever-changing view and cook for the simple joy of cooking. I approached writing this book like preparing a meal, choosing my favourite ingredients, and adding enough flavour, seasoning, and spices to satisfy the palate. Like the plates of food that I fill to capacity, these pages are spilling over with stories, recipes, photos, and love. I invite you to open my book, take a trip through my adventures sailing the Great Lakes and the St Lawrence Seaway, including Atlantic Canada and Newfoundland. I welcome you to enjoy our family recipes that I have perfected along the way. My two passions, cooking and sailing on a ship led me to become a first-time self-published independent author. My cookbook "Ship to Shore Chef" is more than a cookbook, it is my opportunity to share my memories, passions, and experiences.

Made with love,
Chef Catherine
FOLLOW ALONG ON FACEBOOK